Water Conditioner Systems
Providing Problem Water Solutions for all of Loudoun County and Surrounding Areas
The water coming into your home can have more than one problem.
We offer solutions that can help you resolve multiple water issues with one system, providing safe, great tasting water to everyone in your household.
A water conditioning system can provide you with many benefits:
1. Improved water quality: improve the quality of the water into your house by removing impurities and contaminants, such as chlorine, lead, iron, and sediment.
2. Better tasting and smelling water: your water will taste and smell better, the levels of minerals and chemicals that can cause unpleasant odors and flavors will be greatly reduced or eliminated
3. Water that is better for your health: Some contaminants in your water can be harmful to your health. By removing them, a water conditioner can help improve your overall health and reduce the risk of exposure to harmful substances.
4. Protect your appliances and plumbing systems: Impurities and contaminants in water can damage your appliances and plumbing over time. A water conditioner can help prevent this damage, extending the life of your appliances and protecting your plumbing systems.
5. Softened water: If your well water is high in minerals such as calcium and magnesium, it can cause scaling and buildup in pipes and appliances, and make your skin and hair feel dry after showering. A water conditioner can remove these minerals and soften the water, resulting in better skin and hair health.
Sanitizer Plus® Series Conditioner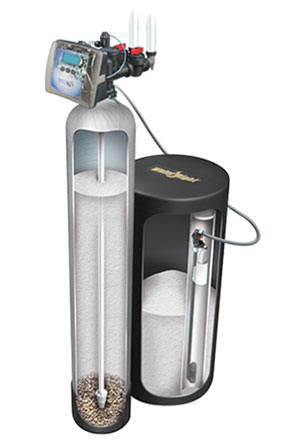 Sanitizer Plus Series® performs like four water treatment systems, in a single unit. By combining our patented self-chlorinating technology* with advanced electronics, Sanitizer Plus softens, removes iron and manganese, and raises low pH levels.
Only Crystal-Right™ media removes water hardness, iron, and manganese, and corrects low pH, in a single unit
Our patented self-chlorinating technology* for controls odor caused by nuisance bacteria
No chemicals or added equipment are needed, ever
Other features include:

Visual and audible "Check Salt" indicator
Overrun capacity protection
Flexible "adjustable cycle sequence" programming that saves salt and water
Advanced history and diagnostic screens
The optional weather cover for outdoor installations
An extended lithium battery backup
Sanitizer Plus® Twin Conditioner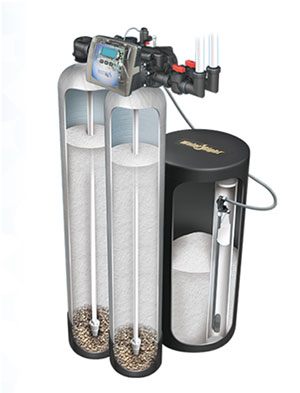 Water-Right's twin systems are engineered to be highly effective in applications where 24-hour use is desired. The twin system is engineered to offer softening capacities between 20,000 and 120,000 grains with flow rates up to 28 GPM.
Sanitizer Plus Twin is offered with two media options capable of handling all softening needs, from the simple to the most challenging water conditions.
Crystal-Right CR100™ — an exclusive, custom engineered zeolite media that is highly effective in reducing hardness, iron, manganese and raising pH levels of slightly acidic water.
Crystal-Right CR200™ — an exclusive, custom engineered zeolite media that is highly effective in reducing hardness, iron, and manganese in a single process.
When Sanitizer Plus twin systems are used with Crystal-Right™ media, this advanced system also removes iron, manganese and corrects pH. A fully adjustable control valve along with advanced controller options provides for dependable, trouble-free operation.